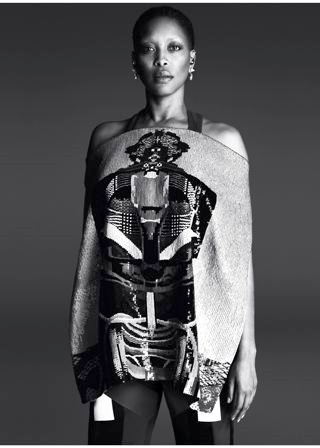 Givenchy's about to look a lot more attractive with the beautiful and just damn superfly, everyone's secret wanna be in my present and next lifetime iconic Superwoman Erykah Badu.
Designer Ricardo Tisci whose known to cast and support models of colour, stated that he is an admirer of her style and thought she would be perfect for his Spring 2014 collection.  Tisci created a fusion of Japanese and African aesthetics. And if you take a look at it, only she can pull off those garments!  Look at the draping… Beautiful.
There's no doubt that there's a certain je nais sais quois about Ms Badu…and ever since Baduizm she's had me (and I'm guessing a lot of you out there) under her spell.  That voodoo ain't no joke 😉  Her beauty, style and confidence are in pristine condition and remain unwavered by the wishy washiness of the music industry.  She knows who she is to every degeree and that makes her all the more inspiring.
I personally think Givenchy is lucky, privileged even, to get the likes of Ms Badu to front their campaign.
Can't wait to see the full release! Will keep y'all posted on this!
In the meantime, here are some of pics of Ms Badu and her kick ass style.