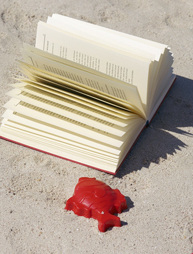 The ideology that in order for a child to succeed in life, academics come first and everything else is secondary was a firm principle throughout my childhood. Unfortunately for my parents, out of my two siblings, I was the only one not born with academic smarts. I had a math tutor from grades four through twelve, while my brother and sister sailed through and skipped through grades. So mother did what any desperate mother would do—forbade television while quietly encouraging me to find my talents by buying me all the toys other kids would toss: sewing kit, knitting set, paint set, puzzle books, and word finders.
All my friends excelled in school, and often got gold stars easily. Not me. I'll never forget a second grade assignment in which my teacher wrote about my weekend news story: "Chanda's stories are boring and unimaginative." I thought the weekend assignments were supposed to be true!
So I immersed myself in every school afternoon activity I could find. I joined Girl Guides, swam, ran, and did every other sport that needed an extra player. I also became a pretty popular actress.
My theatre debut was one of four ducklings in grade two, where my cue was to quack every time the mother duck said her line. What a rush! I felt like I was in Elton John's episode of the Muppet Show, when he sang crocodile rock and the crocs went "la-la-la-la-la-la!" It was a colorful play and we had awesome costumes.
I upgraded in sixth grade by playing Christina in the Pied Piper. This was a much bigger production and we actually used the hall of a neighboring high school, so it was a pretty big deal. I had an actual script and lines that I would run with my brother during week nights and had to stay after school for rehearsals. The boy I had a crush on played my father, so it was so worth it! I was living the dream. It was also a semi-musical, so I got to exercise my chops, though I must admit I sucked. Thank God I didn't have a solo. Mrs. Geston (who never smiled, or took any kind of nonsense) was my coach, and in the whole year she was my teacher I had never seen her face light up except those days at rehearsal when she showed me how to sweep myself across the stage.
The solo tracked me down. In seventh grade, I played Nancy in Oliver Twist. Now this was the equivalent of a major motion picture (in my little town, at least). Move over, Mamma Mia, this takes the cake in musicals. My coach was a tall, thin, middle-aged British woman who looked and sounded like she could be Margaret Thatcher's sister. She had a lot of enthusiasm and I still remember her lifting up her skirt (that really didn't need lifting) to show me how to do the "oom-pa-pa"! It was priceless. My sidekick Betsy and I rocked the routine. The best part of the entire play was the songs. Only a few people had solos and I was one of them. My favorite song was "Who Will Buy," sang by a short, cute boy named Martin who played Oliver. He was a real star. When my solo came around, we had no microphones so I had to project my voice in an assembly hall of about 300 people. But I did, and primary school ended with a bow.
When I went to high school, it was more a like a mini-prison. The only way to keep sane was to join a club. I joined five. I was in Drama, Junior Engineers Technicians and Scientists (J.E.T.S.), Interact (the daughter of the Rotary Club), Debate Club, and cannot for the life of me, recall the last one. Each one allowed me to explore, challenge, and express myself in different ways. I surprised myself by actually winning second place at a J.E.T.S. district competition! I made chicken feed! My parents were shocked, and so was I.
High school theatre was different though. For one, it was a Catholic School and the only money the nuns were willing to spend on paper was for new Bibles. There were no scripts, coaches, costumes, or stage lights. For the first time in my life, I had stage fright. It was all up to us to be creative and improvise. And I think it was the best five years of my life. We shared stories and acted them out in front of the assembly. I learned how to become three or four different characters in a short period of time and just simply enjoyed entertaining and making people laugh. I even became the Vice-President of the Drama club in my final year!
In the end, I excelled in class, too. I came back with a vengeance on the "boring and unimaginative" comment and had my story picked to be showcased on the class wall in fourth grade and got a gold star! By the time I reached grade twelve, I finally conquered math through hard work and the help of a great and patient teacher. I also did extremely well overall, and the look on my parent's faces is still unforgettable.
On the final day of my mentorship program this year, I encouraged my girls to work hard at school, but to also join activities that will help them realize their abilities.
My older sister always encouraged me to be a big dreamer, so I lived my dreams through the activities I joined. I've been an actress, an HIV/AIDS advocate, an athlete, a scientist, and a writer.
First published November 2008
http://www.divinecaroline.com/22368/60659-school-s-x-y