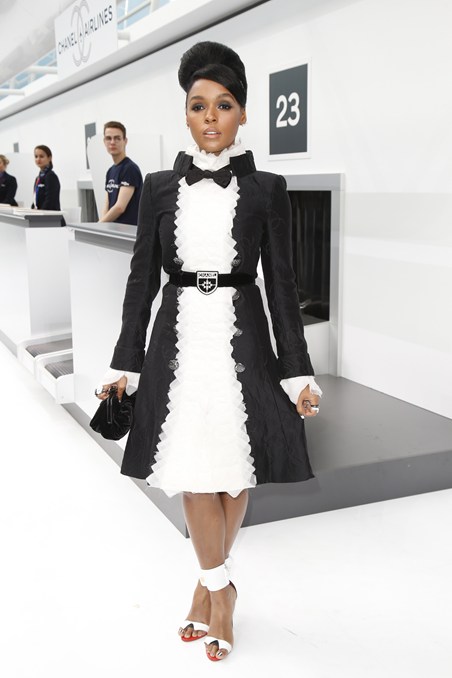 Last one!! Did Paris Fashion Week save the best for last? I'm just gonna say a resounding YES!!! Soo many amazing collections and these designers showed up and showed out!!
The highlight: seeing this lady above (aka my sister), just stand out like the QUEEN she is. This is what you call #alessoninhowtoslaylikeJanelleMonae. I should do a post on this lol.
The lowlight: Valentino. Tsk, tsk…smdh…instead of staying in their lane Maria Grazia Chiuri and Pierpaolo Piccolio decided to venture (according to reviewers on Vogue UK online) into the "wild plains of Africa" complete with conrows. And (wild) animals. And I hear drum beats were the soundtrack. And 6, maybe 7 black models for a collection of 88 garments. So wild y'all. You should see some of the ridiculous stuff that's written, you'd swear it was satire. Like this one. Valentino, next time…do better or rather just don't do anything.
Lanvin
I'm always so stoked to see what my man Alber Elbaz has under his sleeve.
Isabel Marant
Izzie's collections always get me excited. She stays authentic and true to her style and I ain't mad at her one bit.
Dries Van Noten
If Dries' aim was to get my attention he definitely has it. Carry on Dries.
Balenciaga
This was the final show of Alexander Wang's run at the fashion house and he did it well. Well done Alex! Now where's Rih to show us how to slay in these alphets. Oh hey Zoe (Kravitz)! 😉
 Balmain
I'm a real stan of Olivier's not only because he probably puts out the most Black models during his shows but also because he takes risks and does what no one else is doing. I'm gonna say it again, I really, really want Taraji P Henson's character Cookie Lyon to wear one of his alphets.
Elie Saab
I don't think there's ever been a Saab collection I didn't like. Look how many pieces I tagged. The love is real.
Alexander McQueen
Oh Sarah, Lee is surely smiling down on you girl.
Giambattista Valli
I honestly can't say no to Giambattista Valli and I honestly don't want to.
 Sonia Rykiel
According to Vogue UK, Sonia was appealing to the "writers, thinkers and artists of the creative night". *raises hand*