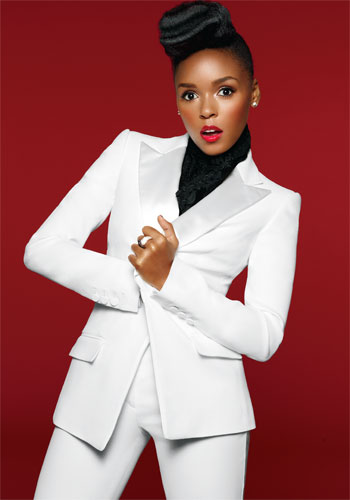 The one thing I miss about not having an office job is the ability to wear a pant suit, or as I like to call it, a power suit.  And no one rocks the power suit like my girl Janelle Monae.
Trivia time! The woman's pant suit was made famous by which legendary designer? Answers please… Yves Saint Laurent (YSL). And boy did he cause quite a stir back in '66 when he revolutionized the male tuxedo and created a female version with le smoking. And women everywhere have never looked back!
There's something really sexy, sophisticated and empowering about a power suit and watching Janelle embrace it as part of her musical identity is beautiful.  She has managed to make it versatile by adding a variety of accessories from a top hat to suspenders, and has played around with the style of shirts and bow ties.
I had a white power suit a number of years ago and recently bought a pair of navy dress pants and paired it with a navy blazer to form a pretty slick suit. And I love it! A pant suit is never out of fashion, because as Saint Laurent put it, "it's not about fashion, but about style, and style is forever".
Do you stick with a black pant suit or do you branch out into other colours? Which of these suits do you fancy?