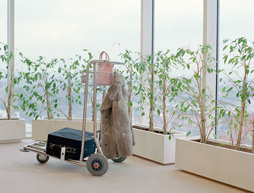 I always enjoy going home. The journey, not so much.  When you have to make a total of approximately 18 hours travel time, a fight for the armrest can become an important one.  Both the departure and returning do not do well for my emotional wellbeing as I am plagued by anxiety during the former and mildly depressed on the latter. 
This time I travelled solo but was pleasantly surprised that despite the long journey, I had some chatty seatmates.  On the first leg were a couple stopping off in Paris to do some site seeing and biking in the countryside.  When the Mrs moaned about the flight being long, I couldn't help but sternly inform her that I had two stops to go.  She quickly retracted her statement and tried to be sympathetic.
Six hours later we arrived at Charles de Gaulle airport. It was a nothing to write home about.  I don't know what I was expecting.  I stuck to one café that was close to the toilets and had food that I could recognize.  The servers were cool though.  The airport despite being pretty small was quite confusing.  The upside is they have an attendant at every corner to help!  I had planned to exercise my Grade 9 French but with the exhaustion, red eyes (amenso red) and potentially bad breath, all I could muster up was a simple salutation.  The attendants were super chipper and the best part was everyone thought I was French!
When it was time to board my Kenya Airways (KA) flight to Nairobi I was informed that my carryon was too big to fit in the overhead and would be sent directly to Lusaka.  The French attendant was talking a mile a minute and her tone indicated I had no choice.  I was a little hesitant but figured it was no big deal as the French lady behind me had also fallen victim to the oversize carryon.  Despite this minor set back I was glad to be on KA, and compared to Air France the food was appetizing and the attendants friendly.  It reminded me that I was close to home.
On this leg of the trip I was sitting next to an older Scottish gentleman who was travelling with his philanthropic buddies.  He name dropped a few towns and cities in Zambia and mentioned that they distributed Bibles to schools or orphanages, can't remember which.  He sounded very proud of himself but mostly sang the praises of his colleague who had the privilege of unnamed perks because he was an avid African traveller.  He introduced me, while on a stretching break and I smiled in appreciation.
My departure flights were pretty close together so when I arrived in Nairobi, I immediately had to run to board my flight to Lusaka.  There was a line up so I was not late, thank God.  I stood in front of two Zambian girls that appeared, sorry, were inebriated.  They were bellowing about how they hated security checks and engaged in a guessing game turned harassment at the man in front of them, forcing him to reveal his identity.  At one point one turned around and looked at me muttering something to her friend in my language (alas they didn't know I understood every word-let this be a lesson folks!)  I shook my head in disappointment.  They continued to take their sweet time taking off their shoes and complaining whilst going through security.  Behind me was a South Asian looking woman and her daughter who said: "Welcome to Africa".  I was embarrassed to say the least.
The party didn't stop there.  One of the girls just happened to be in first class and took it upon herself deliver a number of glasses of wine to her mate over in Economy.  The attendants and those attempting to relieve themselves were not impressed as she was constantly blocking the way.  While I waited my turn in the washroom a young pathetic man was trying to chat up one of the attendants.  Eye rolling was inevitable.
It was 23. 30hrs (11.30pm for you non-military trained) when I finally made it to Lusaka safe and sound.  But not all my luggage did.  Remember my oversize carryon? Yeah.  I was the first to get through immigration and the last person standing waiting for my luggage that never arrived.  I was livid.  Flaring nostrils and all.  I approached a lady sitting in what appeared to be a customer service booth and explained my problem.  She took down my name and number and said: "We'll call you when it comes".   That was it.
The only thing that warmed my heart was the embrace from my cousin and her husband who had been waiting patiently.
The bag arrived two days later thanks to my cousin's networking and persistence.
I can always count on some kind of adventure when travelling home and though things don't always go as planned, it makes for a good story, no?