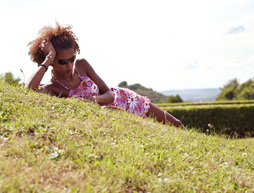 I was never as much of an avid reader as I am now.  I remember always asking my mum the meanings of words and she always said if you want to improve your vocabulary, read.
I was a lazy reader to say the least, never wanted to read books that were long because I thought it was ridiculous someone could write such a long book!  But I was determined to decipher the meanings to words without using the dictionary, so I did!  When I started to use words that my siblings had never heard me utter, my brother would say, "don't use words you can't spell".   His emails get ignored.
Now, onto my favourite reads of this year:
The Long Song by Andrea Levy.  I can't say enough times, how this is a MUST read! It is so amazingly written, taking you from anger to sheer joy.  I've had people stare at me constantly on the subway because I was laughing most of the time.  She is raw, real, and takes you back in time.  And the ending….oh the ending… you have to get there to find out!
Say You're One of Them by Uwem Akpan.  I know Oprah had a two day hoopla when the book originally dropped but after getting caught up in her trap a few years ago and reading Anne Marie McDonald's Fall On Your Knees, I was done with the bookclub hype.  I bought this book solely on the cover alone!  It is tragically beautiful.  The stories are haunting.  The Nigerian writers do it again.  Damn it!
Decoded by Jay-Z.  Now I know some people will roll their eyes at this but trust me I was doing the same when I heard he had a book out.  But I was pleasantly surprised.  If you love Hip Hop, want to learn a little about its and Jay-Z's history, pick this up.  You won't be disappointed.
Letters to my daughter by Maya Angelou.  I actually went to see Maya this year when she came to Toronto as a special treat to myself.  She is never short of inspiration and this little book makes you feel like she's speaking to you no matter where you're at in life.  There's no one like Maya!
The Concubine by Elechi Amadi.  It's been 13 years since I read this book.  It was the first book I read in English Literature in Grade 11.  I can still hear my late teacher's voice as I read it.  It is a beautiful tale, simply told and for lack of a better word, epic.
I have a stack of books lined up for me so I'll have more to share with you next year!