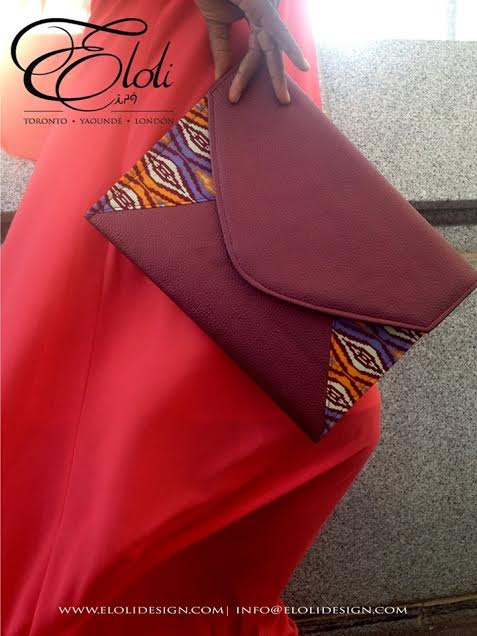 I've been itching to profile new designers behind the brand Eloli since I had the privilege of seeing their items first hand during Africa Fashion Week here in Toronto this summer. 
I sat down with one of the brand's designers Sume Eyoh, for an interview.
What does Eloli mean?
Eloli means 'it is beautiful' in Bafaw, a Cameroonian language. We chose a name which represents how we want you to feel when you wear one of our pieces. It also pays tribute to our cultural heritage.
Why purses, as opposed to say, clothing?
Who doesn't love purses? A purse can completely amp up any outfit. There is a real gap in the market for fashionable and high quality purses with a distinctly African aesthetic. We have also merged function with style – some of our purses double as IPad cases. We also have phone and laptop cases. We will, in the future develop other aspects of the Eloli brand.
Describe the Eloli customer
The Eloli customer is confident, vibrant, fearless and doesn't mind being the centre of attention.
Any Christmas specials?
We always offer complimentary delivery for orders over $150. Our phone cases are the perfect stocking stuffer and the purse lovers in your life will be delighted by one of our unique pieces.
What is your dream for your brand?
There is so much potential right now for African fashion however you interpret that. From the use of vibrant prints and colour to avant garde designs. Our vision is developing a brand which is a mainstay in the fashion landscape and is on par with other established design houses.
From Yaonde to Toronto to London to Amsterdam, Eloli is sure to be found among fashionistas around the globe! Bravo ladies!