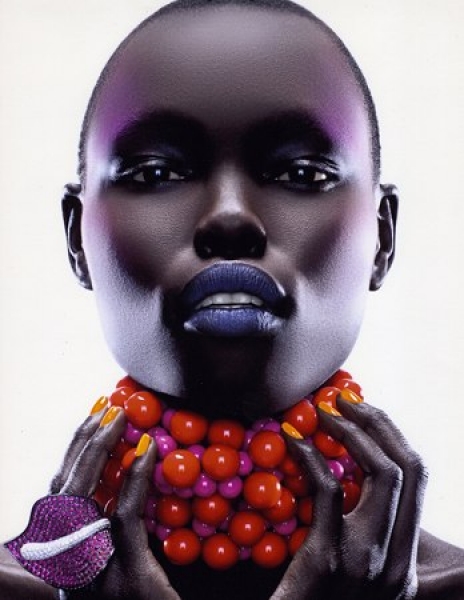 Everytime I see a picture of Grace Bol she takes my breath away.  She's often mistaken for her fellow Sudanese sister Alek Wek, but Grace has a beauty and uniqueness all her own.
Born in Sudan and raised in Kansas, the 24 year old model enjoyed playing basketball and considered herself a tomboy.   She answered an open casting call at a local mall where she was signed on the spot.  She fortunately was deemed "too high fashion" and advised to move to New York.  She did and never looked back.
She made a strong debut in 2011 walking for the likes of Givenchy and Vivienne Westwood and has since attracted other designers such as Duro Olowu, Tracey Reese, Naeem Khan, Jeremy Scott, Diane Von Furstenburg and Maison Martin Margiela.   She also scored a Givenchy campaign that year.
Despite the fast model life, Grace is not interested in materialism.  Her heart has remained in her native Sudan and her desire is to do as much as she can to help her fellow citizens.  She hopes to develop the fashion industry as well as help orphans.
With her heart in the right place and a passion for fashion to match, Grace will continue to electrify designers and consumers alike for many years. Bravo Grace!