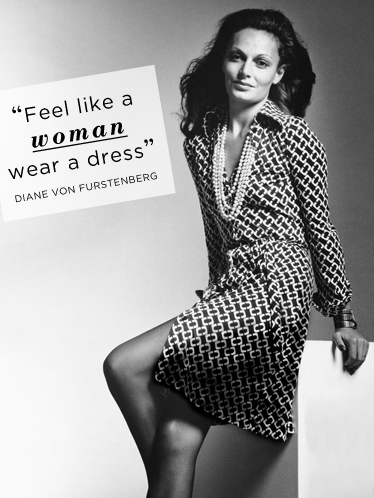 "Man! I feel like a woman!" If that's what women say when they wear one of Diane Von Furstenberg's wrap dresses then sign me up! 😉
It started oh so simply and 40 years later, Diane Von Furstenberg's wrap dress is still in vogue.
The wrap dress became her signature in 1976 when she introduced the wrap dress to the world.  Her "feel like a woman, wear a dress" took to women and they listened.
I'm probably one of the few though that has never owned a wrap dress. A wrap skirt, even a skort I've owned (try not to laugh), but never a wrap dress.  There's no particular reason for it, it just really never appealed to me.
It has certainly brought Diane much success because there are millions of women around the world that the wrap dress appeals to and has done wonders for.  The reason for it's success is its simplicity.  Short, long, plain or in prints, its versatility can take you from day to night with just a touch of the right accessory.
Its pretty amazing that such a simple garment has spanned 40 years and is still on racks and in closets.
The wrap dress is on display at the Wilshire May Company Building in Los Angeles, CA entitled, Diane Von Furstenberg: Journey of a dress.  Bravo Diane!
Do you own a wrap dress? How do you wear it?
Check out the different ways you can rock it.
I think I'd def go for this fab lady from the Style Pantry's maxi wrap. Va Va Voom!