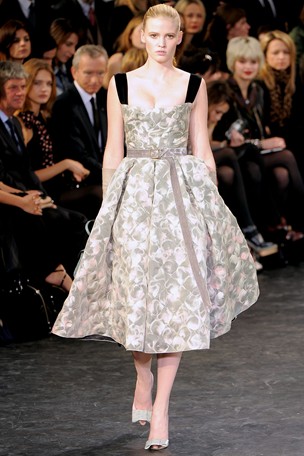 For little over a decade there are two male designers who've had my attention.  The late, great Alexander McQueen, and Marc Jacobs. 
I'll admit that since McQueen's passing I have not taken to Sarah Burton and that is no fault of hers per se, she's great at what she does, she's simply not her predecessor.  The other designer whose career I've been madly obsessed with (one of my DREAMS is to attend one of his runway shows) is Marc Jacobs, both at his own label and at Louis Vuitton (LV).
As the years have gone by I have developed the utmost respect for his craftmanship.  They don't call him the hardest working designer for nothing. He's the Ryan Seacrest of the fashion industry.  He singlehandedly turned the LV brand into a household name and did (imo) for LV what Michael Jackson did for MTV.
One of my favourite collections (the pics posted) was the 50s inspired RTW Autumn/Winter 2010-2011.  The timing was perfect coinciding with the Mad Men craze in full bloom.  The full skirts, tight jackets, the bustiers and those heels…sigh… And he brought out the big guns for this one: Elle, Alessandra, Karolina and Coco.  That collection has never left my mind and that is the work of a genius.
He's done a hell of a job and sustained the brand for 16 years and its time to take a bow and focus on his brand's IPO. And being the showman he is, his final show did not disappoint. Bravo Marc!